Blogger helps you create an amazing blog for your site fast. It's free.
In this post, you will get a step-by-step guide (with pictures) on how to create a blog with blogger for both existing and new businesses.
But before then, let's talk about…
Why your business needs a blog
While most major companies have full-fledged content marketing programs and blogs, incorporating a blog into a small business or startup is just as crucial (and easy).
However, a website by itself may not often provide enough information, personality, or authority to fully stand out. That's where you need a blog. Below are 3 reasons why your business needs a blog:
1. Keep Your Customers Informed About Your Company
A blog, in addition to your company website, is an excellent way to keep your audience informed about your company. While a website's content and tone may be more practical, a blog allows you to engage with consumers and communicate updates in a way that reflects who you are rather than just what you do.
Consider your blog as a direct line of communication. It's a place where you can chat about your products and services in-depth, offer topical news, and comment on pertinent industry trends while letting your brand personality show through.
2. It's Ideal For Growing A Long Tail And Increasing Traffic
A company's exposure is one of the primary reasons for having a blog. Simply said, the more blog material you produce, the more chances you'll have of appearing in search engines and driving organic traffic to your site.
Blogs are the ideal medium for bolstering your SEO approach. By writing new, well-written articles that include long-tail keywords, photographs, and videos, your company can increase its chances of generating traffic and converting leads.
3. More information regarding items is taught and explained
Blogs enable in-depth explanations and instructions on what your items and services can truly provide. You might, for example, produce client case studies, go through specific advantages, or give simple "how-to" tips for your most technical services.
The more material like this your organization generates, the more authority it will get in the industry. This not only expands your knowledge base but also fosters creativity and innovation. The more in-depth and complicated your postings are, the more ideas they'll produce.
Learning how to create a blog with a blogger and creating one does so much for your business. The three mentioned above are just to give you the tip of the iceberg.
Here are more advantages of owning a business blog With blog content, it's considerably easier to gain social awareness. Obtaining input from consumers can aid in the improvement of internal connectivity.
Step-By-Step Guide On How To Create A Blog With Blogger
To get started, sign in to your Google account. Most people will accomplish this by signing in to Gmail, but if you don't have one yet, you can get yours here.
After you've logged in, go over to the upper right and select the 9 grid to access the Google programs list, then click the "Blogger" button. Alternatively, you can visit blogger.com
Click the "Create Your Blog" button on the new page.

Pick a good display name for your blog that others will see when they read it. This does not need to be your whole name or email address. This is something you can edit afterward.
Click "Continue to Blogger" after you've provided a name.
You're all ready to work on your blog. Choose the "Create New Blog" button to get started.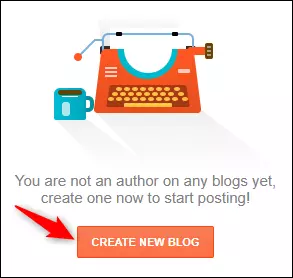 The "Create a New Blog" screen will appear, prompting you to provide your blog with a title, address, and design.
The Title will be the name that appears on the blog, the Address will now be the URL that visitors will use to access your blog, and the theme will be the style and color scheme. All of them may be modified later, so getting them perfect right now isn't necessary.
Your blog's address must be [nameofyourchoise].blogspot.com. When you begin inputting an address, a handy option displays the final address. You may use the suggestion to automatically fill in the ".blogspot.com" section.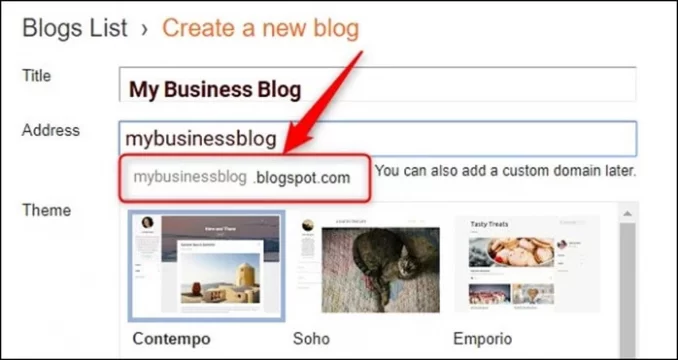 If the Address you desire has already been used, a warning will appear informing you that you must pick something different.

Click the "Create Blog!" button after you've decided on a Title, an available Address, and a Theme.
Once you've taken a Title, a theme, and an available Address, click the "Create Blog!" button.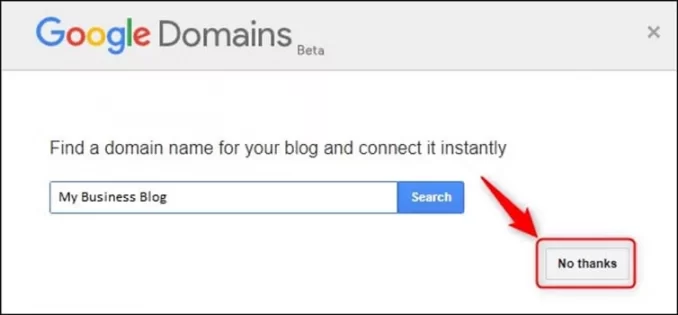 Kudos on starting your blog! You're now ready to start writing your first blog article. To do so, select "New Post" from the drop-down menu.
This brings up the editing interface. There's a lot you can do here, but the most important things are to give your page a title as well as some content.
When you're through writing your article, click "Publish" to publish it. Anyone on the internet will be able to discover it as a result of this.
You'll be returned to your blog's "Posts" section. To see your blog and your first post, go to "View Blog."
And there's your first blog post, ready for the world to view.
It might take up to 24 hours for your blog and new entries to appear in search engines, so don't be discouraged if you Google your blog's name and it doesn't come up immediately. It'll be here before you know it! In the interim, you may use Twitter, Facebook, and other social media platforms to promote your blog.
Change Your Blog's Title, Address, Or Theme.
You gave your blog a name, an address, and a theme when you first started it. All of these may be altered. Go to the "Settings" option on your blog's backend to change the Title and Address.
The choices to edit the Title and Address are right at the top of the page.
If you update the URL, any links you previously shared will no longer work since the URL will have changed. This won't be an issue if you haven't published much (or anything) yet.
Click the "Theme" option on the left sidebar to modify your blog's theme (layout, color, and so on).
You may choose from a variety of themes, and once you've decided on one, which will offer the main layout and color scheme, click "Customize" to make any changes you want.
There's a lot more to Blogger than these fundamentals, so explore all of your options. However, if all you want is a simple platform to write and share your views, the fundamentals are all you'll need.
You can buy a custom domain on Bluehost
Other Blogging Tips
In conclusion
Learning how to create a blog with a blogger isn't hard. It just requires you to follow simple steps.
With your new blog, you can build your company reputation, drive traffic, educate the audience about your products, help you easier to gain social awareness, get feedback from consumers, and keep your customers in the loop on everything that relates to your company.
So now that you know how to use blogger to build your blog, what are you waiting for? Go ahead. Whip out that browser tab and start building. I bet you will come out with something amazing.
.