Are you interested in starting a business, but don't have capital or ideas for sourcing? If you answered yes, here is an easy guide on how to start a business with no money and no experience.
Tips on how to start a business with no money and no experience
1. Re-engineer your mindset
The first step in starting a business without money is to change your mindset on the possibility of you breaking through. Nearly everyone doesn't believe that it is possible to start a business without money.
Their belief is that you need a million dollars to start up a business, rather the creative, innovative and determined entrepreneur understands that it is possible to reach your dreams and get your goals even if you have no money.

To start a business, there are three keys. The idea is the first, followed by people and money is the third. These 3 factors come together at the beginning in rare cases.
Your responsibility as an entrepreneur is to search for one of them and begin with it. Other keys will join along the line, though it might take years.
What am I saying in essence?
It is sufficient for you to start a business if all you have is just an idea.
Moreover, you must believe and accept the fact that it is possible to start a business without money if you really want to succeed in the long run.
Well, it's a step-by-step process that gets you out of the rat race and into a position where you can make the most of your time, creativity, and intelligence.
Entrepreneurship is a challenge in its truest form that requires different parts of your brain to work together to get through it. That means if you want to reach the highest peaks of success in it, you have to be proactive about it. First, start identifying your needs.

If you're trying to raise money for your business, know what you need to get off the ground and raise the money. Start thinking about how to monetize yourself on a grander scale. Second, create a plan. The most successful entrepreneurs do what they want and why they want it.
2. Know your Strength
Since you have perceived the way that there are three keys to beginning a business, the question now is: Which of them do you have at hand? Do you have the idea, people, or money? Let's assume you have just one of them, it is your strength; a fairground for you to begin your journey to success.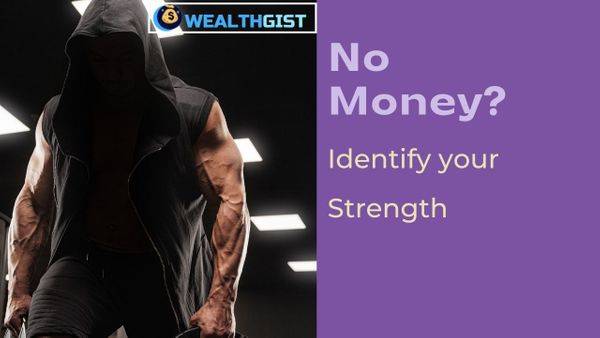 You may think the scenario analysed above is unreasonable or unrealistic, however, I will advise you, it is. I have met individuals with money that don't have any idea how to manage the money. The type of such people are the ones that ask questions like:
• I have $10,000; what business do you think I start with it?
• Where can I invest this money?
On the other side of the story are people with reasonable and beautiful business ideas but, with no money to execute their ideas. If you are in any of these stages Presently, you are fortunate to have one of the keys; so you can begin with that. You will discover the rest in no time.
3. Get a creative business idea
It is essential to have a good business idea when starting a business with no money. Your intended business idea should solve a problem some people are facing. Your idea should be sweet enough to trigger the interest of any individual or investor to whom you pitch it, it should be of great value and benefit.
As an entrepreneur who doesn't have money, but only a good business idea. It would be ideal to present such an idea in black and white.
Also, if this article is about how to begin a business with no money, then, at that point, I expect you to write a good business plan.
But, if you are yet to discover a sellable that will make investors run after you, you need to sit, get relaxed, and brainstorm for one. Since your idea will have opportunities to kick-start because you don't have capital yet.

But if you don't know what a business plan is still, you can read more about it here. You need to get one today, as it acts as a foundation for every successful business.
A business plan is an organized and well-structured report containing your business objectives, your business idea, and its potential benefits. It is a report that tells a financial backer that you have invested energy.
Look,

If you have an idea, but you have no money and no business plan, It will be very obvious that you are not ready to climb the mountain of businessmen. This is never an assumption, it remains the fact.
5. Offer something great
What do you have inside? OK, I realize you are perusing this article now because you lack money to fund your business idea, yet I can assure you that you have something of significant worth within you. What business abilities do you bring to the table since you don't have money? What are your capabilities?
OK, perhaps you are not always lucky in regard to maintaining a business since the same occurs in your previous business. What specialized abilities do you have? I mean, you have a skill in you. You should have a skill related to the business you have chosen? These are questions most financial investors will need a response to.
6. Work free of charge
Human nature loves free things, you can't deprive them if you really want to scale fast. The vast majority dream of becoming rich through business one day. They start a business with high expectations, expecting to become wealthy quickly.
I am not against planning for a bright future and setting some big goals and objectives, it is pertinent you realize that big objectives are projected from little objectives pursued strictly.
That is why you have to state your long-term goals and your short-term goals when writing your business plan, if you really want to get rich through business. So you should be ready to begin little or me say, you should start small. Do several free works, especially when you which to begin with no money.
Nonetheless, it is not funny that most people frown at working for free. They block opportunities because they don't wish to ever work for free. The love of money and extreme greed make us see the act as slavery.
In case you are truly going to begin a business and succeed, you are beginning with money or not; you should work free of charge essentially for a little while. This is apparently one reason why the many newbies feel reluctant to begin a business; the fear of working without a penny.
From my own point of view, I know that working for free is a normal thing for startups to do while they're building their business.
The explanation is on the grounds that getting a business going takes a great deal of work, assets, and capital.
At the point when most people start their business, they laboured for several years without paying themselves. We attend free classes online. Here and there, jumping from one Facebook ad to another.
What comes after the free class?
In a masterclass, the tutor has spent energy to offer you free training, but you have to pay for a masterclass in return. Also, we use trial versions of various software online. What happens when we exhaust our trial period?
Yes,
You must upgrade to a free premium plan. This business model is called FREEMIUM BUSINESS MODEL.
Most entrepreneurs and business moguls I know began without anything and worked free of charge to get their businesses going.

Notable people like Richard Branson, Aliko Dangote, Henry Ford, Larry Page, Sergey Brin, Mark Zuckerberg, Michael Dell, all started their businesses from scratch, doing things for free before getting noticed by investors after which they rose to popularity.

Commitment and sacrifice are qualities financial backers need to find in every startup business. Forget starting a business If you can't see yourself working free of charge.
How to start a business without money
After writing a bankable business plan and having a good mindset. You have to move, you need to start that business of your dream. People can't envision beginning a business without money, and they frequently asked questions like:
• How do I fabricate my tool when I have no money?
• How do I lease office space or store when I don't have money?
• How do I pay my utility bills?
• How do I pay people that work for me?
Indeed, the appropriate response is that you can't do any of these things without money however you can accomplish something.
Steps to take before Starting your new Business Idea
A sizeable number of people actually have confidence and believe in the traditional method of beginning a business, which is leasing an office space, loading your merchandise, hiring workers, and discovering clients. Nonetheless, an innovative business visionary can adopt an alternate strategy, particularly when there is no startup capital.
Instead of whiling away time with your business idea without doing anything, you can take the following steps:
Attend entrepreneurial summits and seminars
design and develop a business model for your product
Preparing and presenting proposals to companies and investors
Search for a partner or a contributor
Engage in business plan presentations and pitching to investors
Getting grants from loved ones (families and friends).
2 smart business Ideas you can start with zero capital Immediately
The main thing is to continue moving and try not to be inactive. Never sit on your ideas.
For example, when I wanted to start my broiler poultry business, I had no money and no companions on the same page. All I had was a dream of where I needed to be in the nearest future.
Would I sit inactively and dream about the future? I began going to workshops, chatting with different business people, understanding books, and finding out about business models.
It was during this interaction that I figured out some things, composed my business plan, and began my business.
I challenge you to adopt a similar strategy, particularly in case you are starting with no money. You might want to start with any of these two options
1. Begin a home-based business
At the point, when I hear individuals giving weak reasons about their incapability to begin a business because of little or no capital, I bubble within me. I have seen individuals start businesses directly from their homes and develop from that point. Bill Gates, began his business from home. A close example is my wife whose business is scaling fast at present. She started at home as well.
I have seen individuals who raised $1000 or less from family or friends' events get more through networking. I started my digital marketing business with my uncle PC.
Regardless of whether you have no money. There won't be room for your poll of excuses. You should start a business today.
2. Begin a serviced based business
It requires practically zero startup capital to begin a serviced business. However, you will need to contribute time and sweat value to get things rolling. Bundles of creativity, promoting and deals abilities will likewise be expected to give your business an early advantage.
Use the Bootstrapping Business Model
Finally, you can bootstrap your business by working on a lean spending plan. Bootstrap financing is an option for individuals who are thinking that It's hard to raise money for their business.
According to

Bootstrapping is building a company from the ground up with nothing but personal savings, and with luck, the cash coming in from the first sales. The term is also used as a noun: A bootstrap is a business an entrepreneur with little or no outside cash or other support launches.

investopedia
Big conclusion
Since you know there are three components to starting a business, the first stage is to sort out what your strength is. Do you have the money, the idea, or the individuals to get it going? If you have any of these, you are on the right track, you have a strength; a decent spot to start.
You might accept that the analyses done above are unrealistic, however, trust me, that is a fact. I've met people who had a ton of money, but didn't have any idea how to manage it. Some of them even went so far as to invest with me. Be determined to make it happen, It's in you!
Are you ready to start your business?

Have you discovered a great business idea, awesome! — now is the right time to start. Whenever you're set to start planning your new business, check out our business proposal guide and business planning guide for more information, or use our contact page to hire wealthgist to write one.