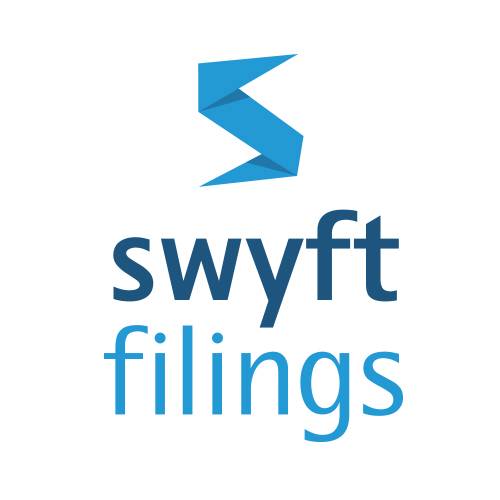 WEALTHGIST'S RATING
4.5/5
Whether you are forming an LLC, corporation, or non-profit organization, you will need to contract with a business formation service company. 
If you are contemplating if Swyft filings are the best to go with, the review of this Swyft filing will reveal all you need to know about their LLC formation service. 
However, Swyft Filings can help you prepare your operating agreement to ensure you can run your business smoothly.
They also can help you switch from an LLC to a Corporation or other entity type change. 
Summarily, you need to read through the review of this swyft filing to understand how they function and if it will be best for your business to work with them.
Keep reading! 
Swyft Filings Review – Company Overview 
Swyft Filings is one of the newer Limited Liability Company (LLC) formation service companies that have been in business since 2012.
However, it has attained a great deal of popularity for its Limited Liability Company formations in a short period.
Meanwhile, it was established to streamline and automate the process of business filing while minimizing the costs of company registration.
Swyft Filings is a superior business formation service that takes difficulties out of business formation for entrepreneurs and small businesses countrywide. 
The company is well-known for offering one of the fastest services at an attractive price point and a 100% money-back guarantee.
Swyft Filings is a business formation service with the quickest turnaround times in the industry. It uses its resources to keep your business running with its fast application process and excellent customer support team.
It is best for small businesses or entrepreneurs who want their business to be formed quickly for a low price.
Its LLC services are related to those of more established LLC companies as they can form an LLC for business in all 50 states.
They also aspire to offer industry-leading customer service as a significant advantage for them as many competitors are lacking in this area.
According to research, Swyft Filings has a mix of pros and cons. 
Let's have a review of the benefits and drawbacks of using Swyft filing services
Pros of Swyft Filings Review
Guaranteed Results
Swyft Filings ensures that you get results in numerous ways. 
Even when they commit errors, they will make it right for you at no extra cost or return your fees in full. 
Rapid Turnaround
Regarding filing times, they are an industry leader in the business formation space. They promise next-day filing for all business formation, no matter your package. 
Timely Application Process
The application process can be completed in 10 minutes, no matter the type of business entity you are forming.
If you already have your information, you must choose your preferred package and continue.
Affordable Packages
Their starting package is as little as $49 to attract entrepreneurs and small business owners.
Money-Back Guarantee 
They also offer a 100% money-back guarantee if you are unsatisfied with their service. 
Business Formation Guidance
Swyft Filings offers tons of support in business structure formation. 
You can contact Swyft Filings' business specialists for personalized advice for your business needs if you are stuck!
Lifetime Access to Customer Support
Customer support is one of Swyft Filings' selling points. 
You'll have lifetime access to their customer support team for your business formation and maintenance needs once you sign up.
Users within the United States and Canada have access to phone and live chat support from 9 am to 6 pm CST Monday to Friday. Some users receive email support through the weekend too. 
User-Friendly
With a user-friendly dashboard, you can oversee your business formation process. 
You'll be able to see the documents, submission process, and essential deadlines. 
You can also streamline all communication with your registered agent. 
Form Your LLC Today for Only $49 + State Filing Fees!
Incorporate Your Business Online For Only $49 Plus State Fees.
Cons of Swyft Filings Review
Inconsistent Quality of Support
Review from users shows that their quality of service can be inconsistent. 
Even though it offers lifetime access to customer support across multiple channels and is generally well-regarded for its superior customer support. 
Lack of Free Registered Agent Services
Many competitors offer free registered agent services within the first year of service but do not offer this in any packages. 
To access registered agent services through them, you will need to pay an additional $149 per service. 
Types of services
In this section of the Swyft filings review, let's look at some of the services they offer. 
The LLC Services
The Limited Liability Company (LLC) formation service is one of their most popular services.
They help entrepreneurs and small business owners in all 50 states to launch their businesses swiftly. 
Their processes are straightforward, as you have to do to complete an online form sharing your dentists. 
You will receive your complete LLC package in your mailbox once your incorporation services have been approved. 
Incorporation Services
Incorporating your business is accessible through the Swyft filings. 
It offers incorporation services for S-Corps, C-Corps, and nonprofit organizations. 
From their website, you'll choose your entity type and state and enter your business details through the online form.
Swyft Filings will help prepare and file the required documents with the Secretary of State. You may receive your completed incorporation documents by mail within 15 working days. 
Registered Agent Services
Swyft Filings offers registered agent services across all 50 states. 
All you have to do to use the service is fill out a quick online questionnaire to sign up. 
You'll be able to manage everything from your online dashboard, including the receiving of any essential reminders or deadlines from your agent. 
Kindly note that Swyft Filings uses a third-party provider to offer registered agent services. 
Their registered agent services start from $149 annually, which will automatically renew each year. 
Annual Report Filing
Swift fillings can handle your annual report filing with just #$99.
You need this service to confirm the continuity and existence of your business. 
Amendments
Amendments like changing your name can be a big deal, but with Swyft filings, it is not complicated. 
They charge $99 to go through the rigorous amendment process for you. 
LLC Dissolution Service 
It is crucial to take all the required steps to ensure that your company's affairs are in order, no matter why you are closing your business. Swyft Filings charges $149 plus state fees for LLC dissolution services.
Business Licenses and Permits
For $99, swift filings will help figure out the best license for your business and also file applications for each one. 
This is needed to be obtained before operating a business legally. 
Price and Packages
Swyft Filings offers three pricing plans for LLC formation to suit various needs and budgets. 
Their packages include lifetime customer support, real-time online order tracking, dedicated account access to all your documents, and free shipping on all orders. 
Their packages include:
The Basic Package
The Standard Package
The Premium Package
Note: The cost of their packages remains the same no matter your state or entity, but there might be slight changes in fees. 
The Basic Package
The basic package costs $49 plus state fees. 
This includes all the basics services you need to incorporate into your business, such as: 
Company name availability check
Preparation and filing of articles of organization
Preparation and filing of articles of incorporation (if applicable)
Free 30-minute business tax consultation
Compliance Guard company alerts
Free domain name
Standard filing time 
The Standard Package 
The Standard package costs $149 plus state fees and includes everything listed in the basic package as well as the following: 
Federal Tax ID (EIN)
Custom LLC operating agreement
Custom LLC banking resolution
Custom organizational minutes
The Premium Package
As the most complete package, the Premium package costs $299 plus state fees.
It includes all the services in the basic and standard package plus: 
Electronic delivery of state documents
Customized digital LLC kit
Accessible business website and web hosting
Express filing 
Express and tracked shipping with FedEx
Swyft Filings Review – Trustpilot Scores and Ratings
Swift filing has only 4,732 reviews in total on the Trustpilot platform. 
It also has of 4.7 excellent rating out of 5 on Trustpilot. 
It has 87% Excellent, 6% Great, 2% Average, 1% poor, and 5% bad. 
Our Take
In conclusion, swyft filings review so far shows that the company is an industry leader when it comes to filing speed. 
It offers lifetime customer support, a quick application process, with a user-friendly experience.
At $49, this company offers some of the industry's most affordable limited liability company formation services.
One of its drawbacks is that its LLC formation lacks a registered agent service, and you have to pay $149 annual fees to use that. 
We hope the review of this Swyft filing helps you make the best decision for your LLC business formation services.